Appointments
Consultations and fittings are held in privacy at the modern, comfortable surroundings of the Hamar Centre in the grounds of the Royal Shrewsbury Hospital between 9:30am and 11:30am on the second Wednesday of each month, by appointment only.

Drop-in sessions can be catered for on an ad Hoc basis, but please bear in mind that if someone has booked an appointment with me then you may have to wait a while in the pleasant surroundings inside the Hamar Centre. I will always try to approximate how long this may be.

Best to call me directly on 07796 171467 to ensure your appointment;
or .
Consultation Fees
A Consultation fee of £30 is payable should you not wish to purchase a bra from Uplift following your appointment.

I prefer to take cash or cheques supported by a banker's card, as I currently do not have credit card facilities.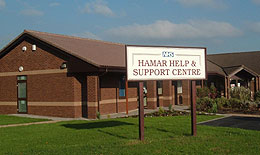 Finding your way
The location of the Hamar centre can be found from the map on this page.
Just zoom in using the slider and the Hamar Centre will remain centred in the map display. Change to "Satellite" view to see an overhead view of the buildings and roads; or drag the yellow man icon to get a "street view" of the location.
For travelling directions please
go to The Shrewsbury and Telford Hospital website.
For SatNav users, the postcode is SY3 8XQ
Home visits
Uplift Bra Fitting consultations are usually held in the privacy of the Hamar Centre, but I recognise that this may not be suitable for everyone.

Under certain circumstances I am therefore happy to arrange a home consultation, but please contact me to discuss your specific requirements.

Home visits may incur an additional discretionary travelling fee.